It's a fact that beautiful high-quality images are necessary to make a website look much more professional than its competitors. But using high-quality images on your website always comes at a price.
Most of these so-called high-quality images are always in mega-bites. And these in turn increase the overall size of the web page it's used on. Thus directly increasing your overall website speed.
If your site is loading slower then your bounce rate increases, your google ranking drops significantly, and you start losing money. Which is definitely not good if you still want to be in business.
So, it's a best practice to check if the image that you are going to use on your website is properly resized or not. It's a misconception among many newbies that resizing an image reduces its quality.
Well, you will definitely lose quality if you are not resizing it properly. In this blog, I will exactly tell you how to resize images without losing quality.
Also in this blog, I have talked in detail about a total of 15 Best Free Image Resizing tools in 2022. Be assured each tool listed here is tested beforehand you that you won't have to.
You should also be resizing images before publishing them on your social media profiles. Almost every social media website has a set of dimensions for various types of images. Like if you are going to post a cover image on Facebook and Twitter or any other social media.
All of them have completely different dimensions for the same type of images. This is the same for profile pictures and post-type images. If you could just scroll down I have prepared a list of different dimensions for various social media websites.
What makes a good image resizing tool?
The ability to rotate, bulk resize, crop, add the overlay, basic editing and X-Y scaling are some of the must-have features that make a good image resizing tool. Without these features, they are really of no use to anyone.
Let's discuss all the above-mentioned features in more detail:
Ability to Rotate: Sometimes just resizing an image is not enough we might need to rotate it according to our needs. So look for an image resizing tool that has this rotate feature.
Bulk Resizing: Many of the free image resizing tools only allow you to resize one image at a time. So, an image resizer tool that allows you to upload multiple images to do bulk resizing is a good option.
Cropping: How many times it has happened that you just want to crop a certain part of an image. But many of the free image resizing tools don't even have this feature. So if your work requires you to crop an image along with resizing it then pick any free image resizing tool I have listed below.
Adding Overlay: Many times I myself need to add good-looking overlays over the image that I am resizing. Overlays like text, textures, graphics, frames, etc. So, it is also a must-have feature that a good image resizer tool much have.
Basic Editing: With basic editing, I meant to say that adjusting the brightness, contrast or even saturation of images being resized. Chance are a lot of free image resizing tools out there might not even have this feature. If you are looking for one then do scroll down to look at some free image resizers with editing features.
X-Y Scaling: If you want an image that is in pixels and is only available in digital format. Then you can use this feature to convert and resize it into physical units.
Why you should Resize your Images without Losing Quality?
There are many reasons why you should resize your image without losing quality. Some of those reasons are non-resized images don't look good anywhere it is posted, non-resized images make your site load slow, it doesn't look professional, and many more.
If you are a newbie like I once was you also might be thinking that why you should resize your images in the first place. Can't it be used as it is? Well, you can surely use those images without resizing them.
But it might cause you some problems later. Therefore here I have listed a few of the reasons why you should resize your image without losing quality?
Increases your website speed: Consider two websites having the same images but one has it resized to the optimal size. Whereas the other website uses the original image without resizing it. Guess which website will load faster. Well, the website that had resized the image will load much faster then the other website. As its overall page size will be much lower.
Best for sites with multiple images on single page: If you are planning to post multiple images on a website or even a single page. Do resize them all to one common aspect ratio otherwise, it might look out of place and will make that webpage or site a lot heavier.
Gives professional look: Yes, a properly resized image will look much more professional in comparison to the non-resized images. As humans, we are more familiar to look at symmetrical structures. Even when it comes to websites and their images.
Image quality is not reduced: Yes, you read it right the resized images do not lose their core quality. The image size will be reduced but if you have resized images properly then you won't even know the difference between the resized and non-resized image. You will have the same image but with the perfect size and much lower size.
Resize images before uploading to Social media: Yes I know that all the social media apps do allow cropping while uploading the images. But if you are directly uploading non-resized images. Then even your high-quality image will be reduced to not so high quality images. If you already didn't know this well now you know. All the social media apps like Instagram, Facebook, Twitter, Linkedin, etc have set aspect ratios for different types of images.
What are some Premium Image Resizing tools in 2022?
Still, if you prefer to use premium Image Resizing tools then I have listed up to 4 of the best premium image resizing tools in 2022.
List of 15 Best Free Images Resizing Tools in 2022
I know that there is a lot of free image resizing tools. But out of those 100+ tools which are the best. It might take a lot of time for you to find the best one.
So, I went on ahead and found and tested a total of 15 Best Free Image Resizing tools. Here is a quick table you can look at.
Now let's discuss all these free image resizing tools in more detail. That way you will know which image resizer is best for you. That can help you to resize images without losing quality.
1. I Love Img : No.1 Free Image Resizer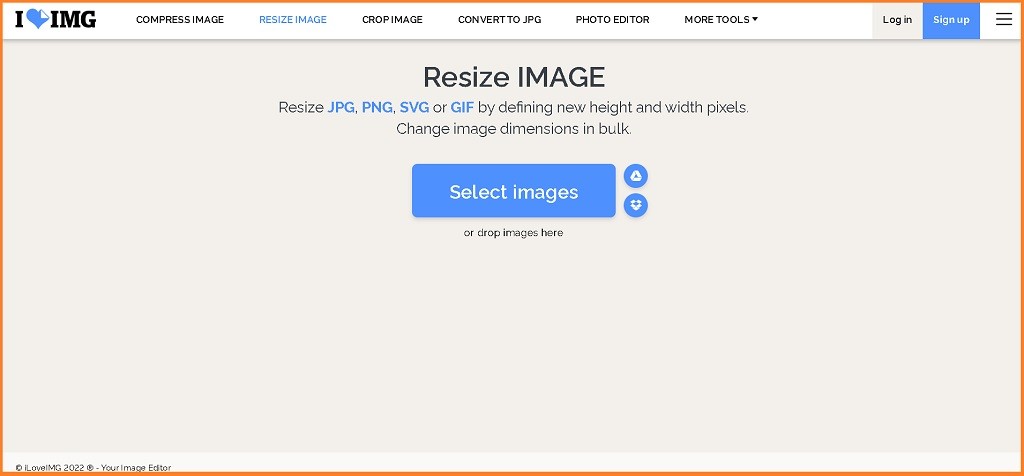 I personally recommend you all to use I Love IMG. I really liked the simplicity of this site. You can very easily just drag and drop the image that you want to be resized.
You will have two resize options to choose from. Resize your images by pixel or by percentage it all depends on your needs. You can enter your own aspect ratios and lock them accordingly if you want to or even enlarge the image.
You can very easily resize images in bulk. So, I Love IMG is also a great tool for bulk image resizing. You can crop or edit the images that you just resized and give them a more professional look.
The supported file format is SVG, PNG, JPG, or GIF. Along with image resizing, you can also compress images, crop images, edit images and add a lot more designs to it. Which is really wonderful.
This tool offers a lot of functionality to its users. Their site is clean with fewer ads and loads fast without any hiccups. You can very easily use it on your mobile devices to resize your social media images.
2. Pic Resize : Best Image Resizer for Social Media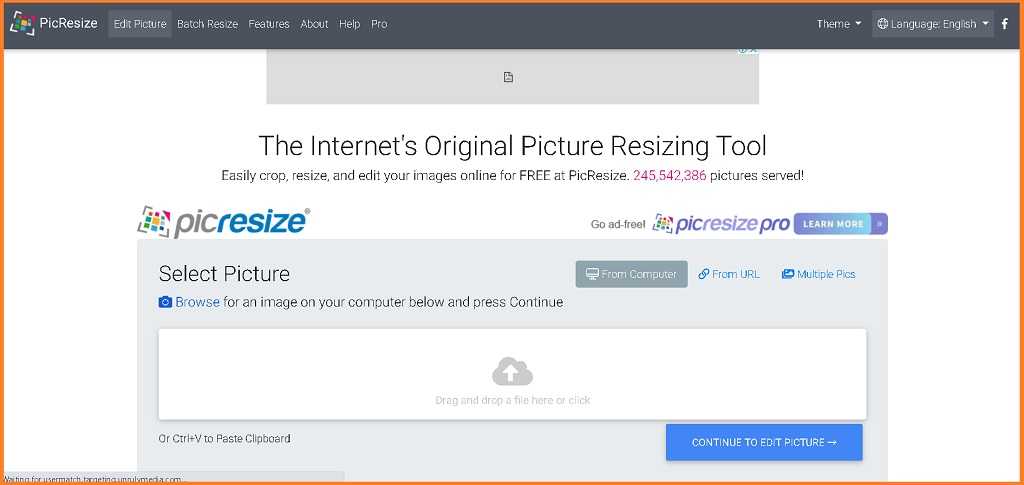 3. Image Resizer : Best Bulk Image Resizer
4. Online Image Resizer : Basic Image Resizer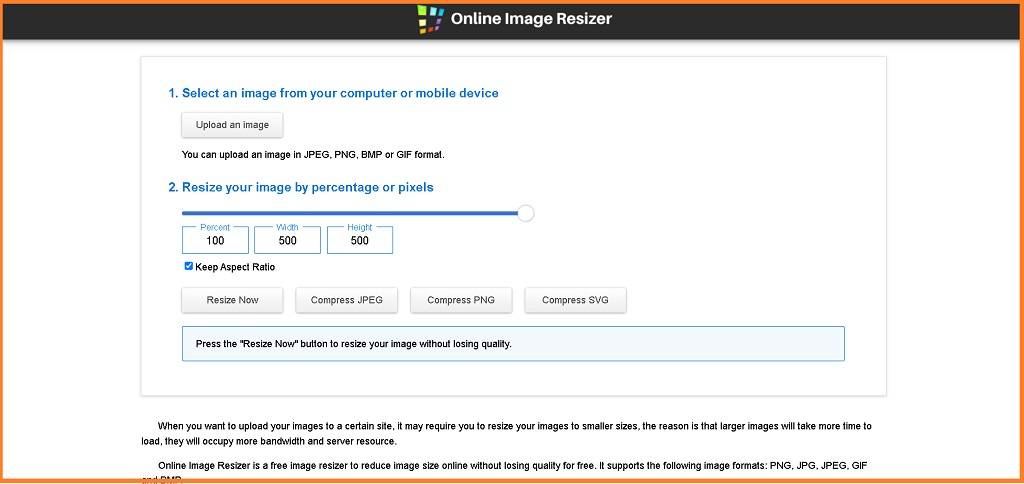 5. Resize Image: Best Easy to Use Free Image Resizer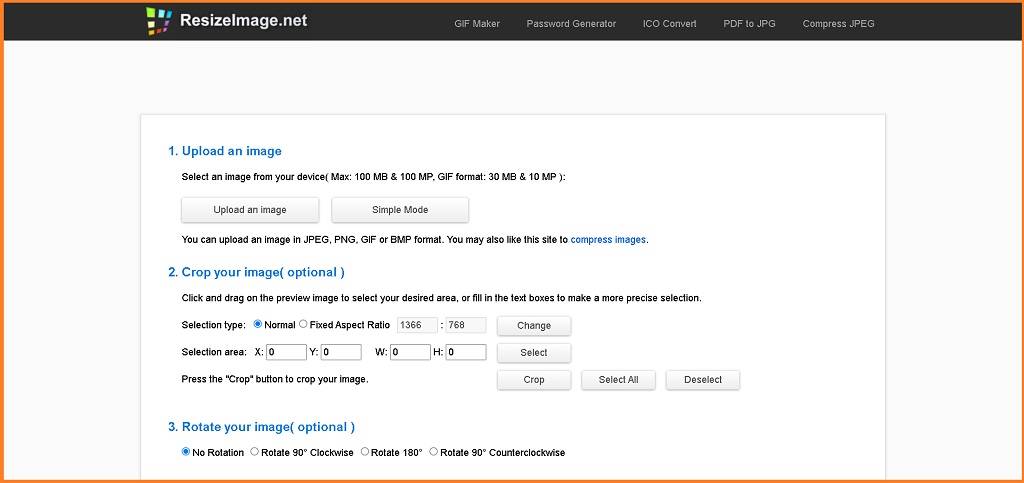 6. Pixoate : Advance Image Resizer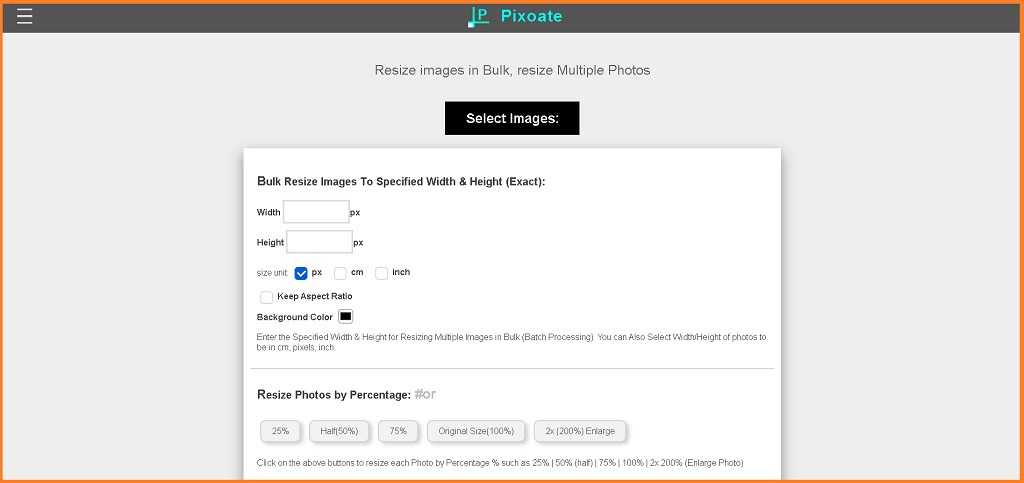 7. Resize File: Best Free Image Resizer
8. EzGif: Best All Rounder Image Resizer
9. PhotoSize: New Free Image Resizer
10. Photo Resizer: Best Image Resizer for Govt. Exams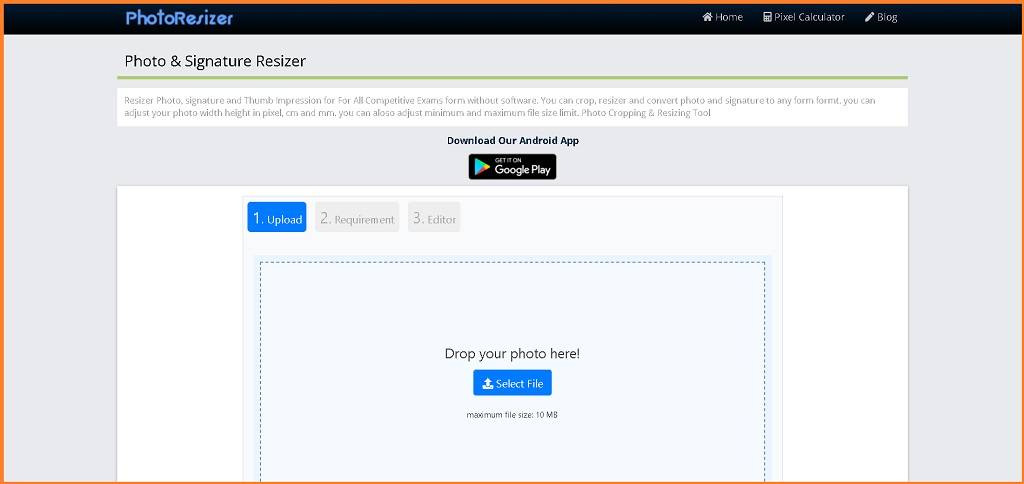 11. Online Convert Free: Best Image Resizer with Editor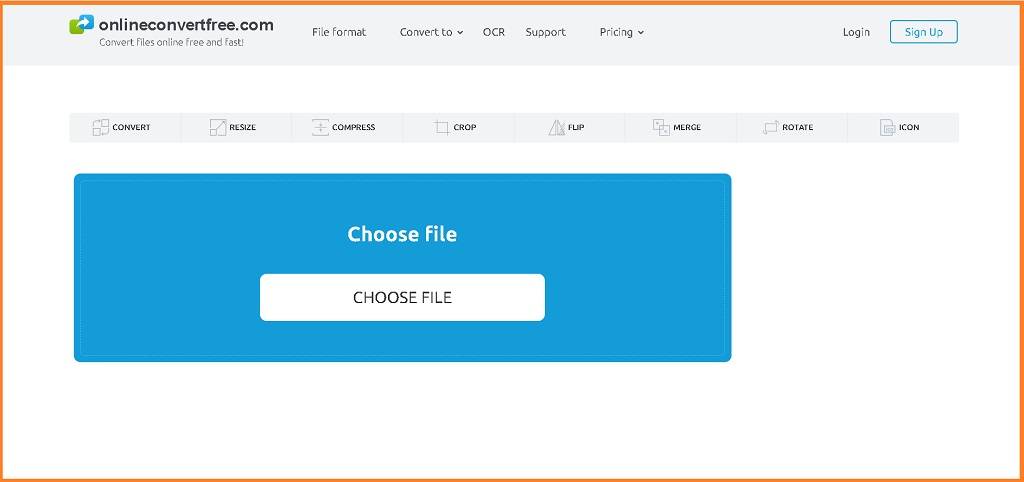 12. Resize Pixel: Easy to Use Free Image Resizer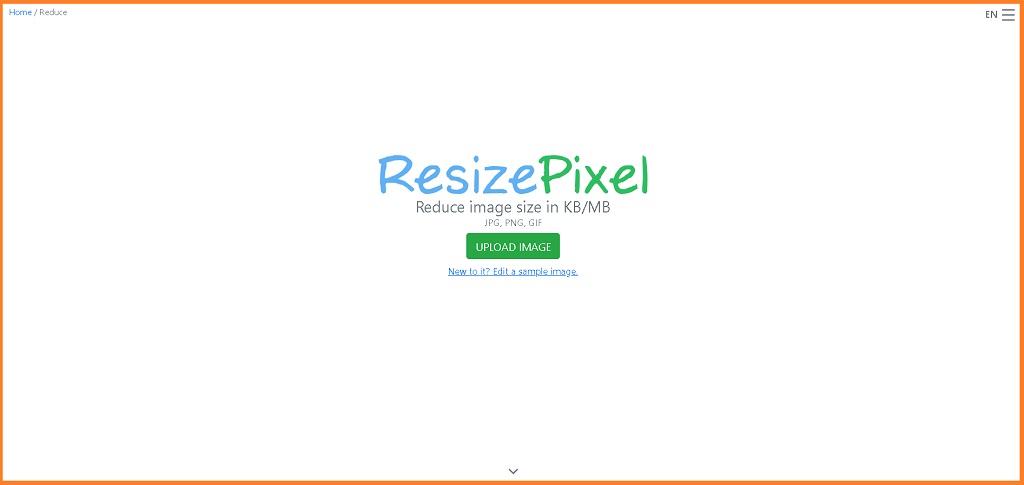 13. IMG 2 Go: Best Basic Free Image Resizer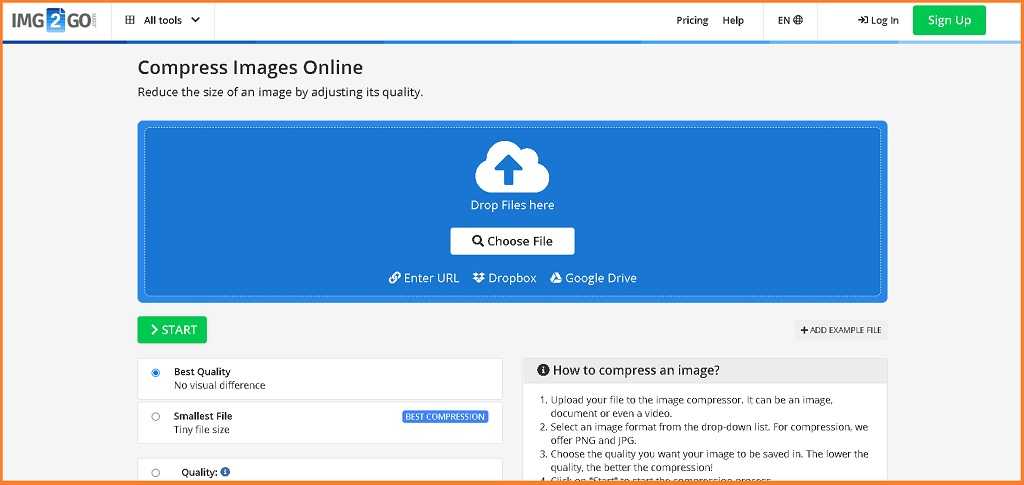 15. iMResizer: Minimalistic Image Resizer
How to Properly Resize Images without Losing Quality?
How to Resize Image in Paint without losing quality?
Many people don't know but you can resize images in Paint without losing quality. Yes, you heard it right if you learn how to resize images in Microsoft Paint. Then you won't ever need any kind of resizer tool or software ever.
Step 1: Have the image prepared you want to resize.
Step 2: Open Microsoft Paint on your PC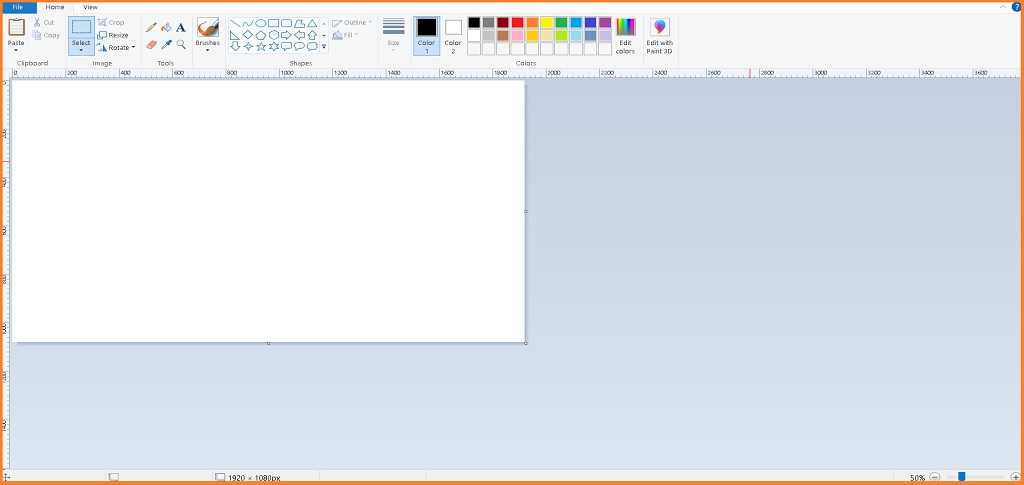 Step 3: Click "FILE" on the top right corner on your screen.
Step 4: A menu appears and from that menu click the second option i.e, "OPEN"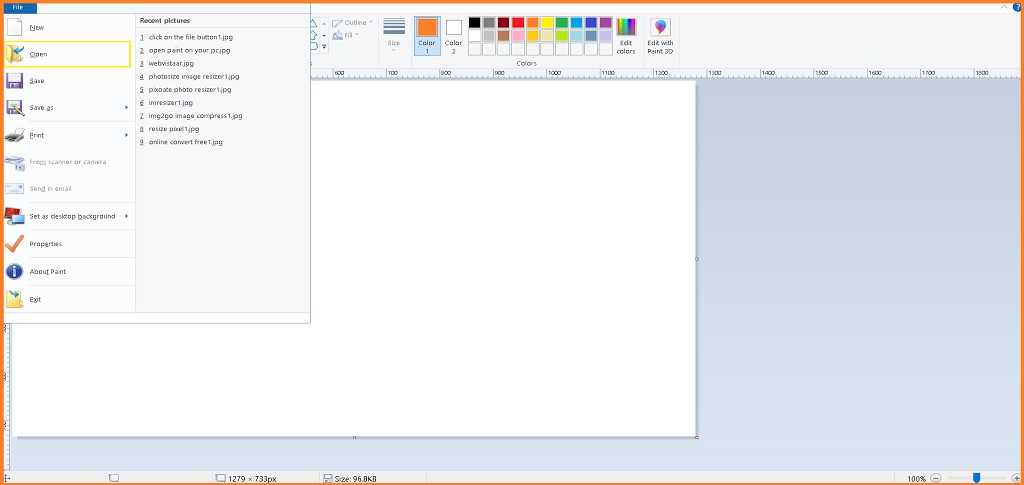 Step 5: After clicking it your File Manager will open
Step 6: From the File Manager select the image can click "OPEN"
Step 7: And now click on "RESIZE" from the top menu.
Step 8: It will show you two main options resize by Percentage and other by Pixels.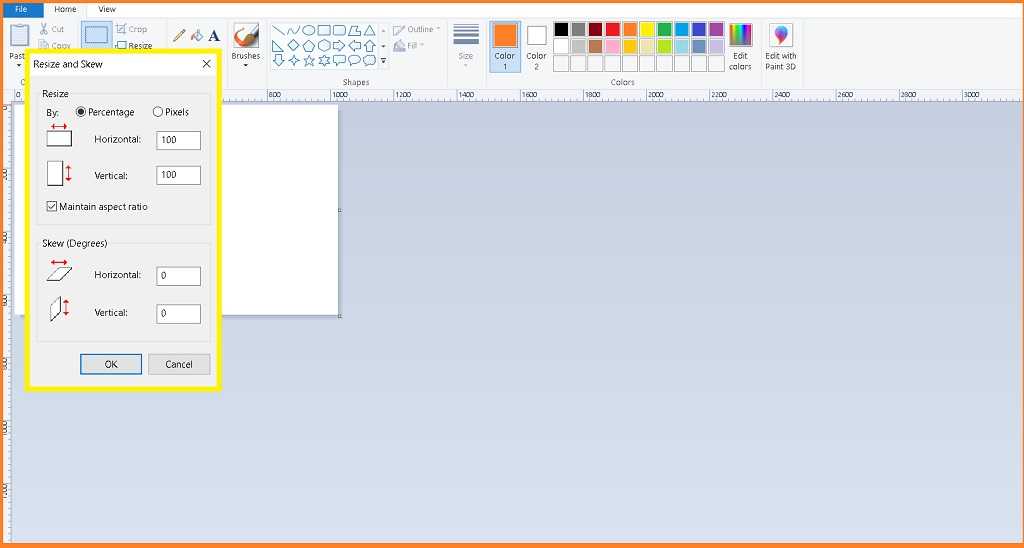 Step 9: Choose any one you want to. Just to show you I choose to resize by pixels basis.
Step 10: After you choose to resize by piexel basis you will need to enter the horizinatal & vertical values to the image. Make sure to uncheck "Maintain Aspect Ratio" incase you are entering both the values.
Step 11: Once done click "OK" . And thats it your image is resized
Step 12: Just hit "Ctrl+S" to save the image. And choose the destination where you want to save the image and click save.
Step 13: Your image is saved and resized.
What is the difference between image optimizer and resizer?
Seriously I have seen many people who are clueless about the difference between image optimizer and resizer. Some would even say that both are one and the same. But they are completely wrong.
In simple words, an image optimizer or image compressor reduces the overall size of an image by many folds. Whereas an image resizer just simply resizes an image by reducing its height and width without compressing it. If your aim is to compress an image and not reduce its dimensions then you should use the image optimizer. Or if you want to change the dimensions of your image then an image resizer will do just fine.
My Final Thoughts on Free Image Resizing Tools
Finally, you have reached the end of this post. And I really hope that you were able to find a good free image resizing tool for yourself.
Resizing images is not rocket science you just need to know the dimensions and need to have a reliable image resizing tool. That works the way you want it to.
It took me more than one week to find, research, and write about all the 15 free image resizing tools. It would really be a big help if you can share it with others that need a free resizing tool.
Also, if you found some information that is wrong or not up-to-date. Then please just comment below we would update it as soon as possible.
Summary of 15 Best Free Photo Resizing Tools
Here is the summary of this blog post titled "Top 15 Best Free Image Resizing Tools in 2022"
I Love IMG
Pic Resize
Image Resizer
Online Image Resizer
Resize Image
Pixoate
Resize File
EzGif
Photosize
Photo Resizer
Online Convert Free
Resize Pixel
IMG 2 GO
Small SEO Tools Image Resizer
iMResizer
FAQ about Best Free Image Resizing Tools