YouTube Channel Name Ideas for Education in India: Are you also a teacher Who used to give offline classes but we all know due to this pandemic that is not really possible?
So, the best option for you is to start giving online classes not only for the student in your local area but all over India and by doing so earn money too.
Yes, you heard it right, you don't have to sign yourself up with any of the big institutes like Aakash or Byjus to start your online teaching journey.
You can do so by just starting an Educational YouTube channel, plus signing up on YouTube is totally free of cost too.
So in this blog post of ours, we will walk you through each and every step required to create a successful Educational YouTube Channel in 2022 by helping you select the best education channel name.
From choosing the perfect name for your Educational Youtube channel to following some easy steps to create an education channel on YouTube, and finally monetizing it.
Things to look for While Choosing A Name For An Educational Channel On YouTube?
So you finally came through and decided to create an Education YouTube channel. Well, I am glad but you cannot just go and straightway create an Education YouTube Channel with no vision.
And the first step towards creating that vision is to choose a channel name that matches your type of content and your vibe too. By matching your vibe I meant your personality.
If you are here reading this blog then we all know why you are here and for that, we have got a very big list of the best, latest, and most creative Educational YouTube Channel Names both in Hindi and English.
But before we jump right into the mix and I give you the list of all the best and unused Study YouTube Channel Name Ideas.
Tell Me!
Do you actually know What To Look For While Choosing A Name For An Educational Channel On YouTube? If not then don't worry we have got your back.
There are a few but some are very important things you need to keep in mind before choosing a perfect name for your Educational YouTube Channel or Study YouTube Channel, especially in the year 2022.
Here is a short list of a few things you need to keep in mind before finalizing one name:
It should be Unique: Well I know it's difficult in this day and age to find a unique channel name that hasn't already been taken but that should be your priority as your channel name is what gonna attract starting visitors.
It should be Unused: If the name is already in use by other hundreds of random channels then that name should not be on your list.
It should be catchy: Yes, definitely if it's some dull name then no one's gonna remember it for a long time, and your channel won't get that much traction. Because not only a catchy name is rememberable having a good catchy name also helps you in branding your channel(that should be your goal).
It should be Short and Self-Descriptive: I would advise you guys to not choose a name that is more than two words or max three words that's the limit. Also, make your channel name self-descriptive it should not be like "Ultimate Doddle" for an Educational channel.
It should be spellable: Be cautious not to choose a name that is only easy for you to spell and not for others. Try to make it easy to read and understandable for other people.
Should not rank other channels: One of the most important things you should focus on while selecting the name is that it should not rank other big or old dead channels. If the name you choose is ranking some other channel then pick a different one from the list below.
For you, we picked a few educational YouTube channels for you to take inspiration from and also see how are they creating and branding their Education YouTube channels.
So, these were some of the Top Educational Youtube Channels in India.
If you look at all the channel names we featured above you can see that their channel names are short, simple, rememberable, and self-descriptive. That should be your goal too.
100 Latest and Creative YouTube Channel Name Ideas for Education in Hindi
So, if you are looking to create an educational channel catering only to the Indian audience then I would personally suggest you try choosing some best study channel name ideas from the list below.
We have tried to list all the latest and creative YouTube channel Name Ideas for Education in Hindi.
Hindi Gyaan
Gyaan in Hindi
Latest Gyaan
Apna Gyaan
Gyaani Teacher
Duniya ka Gyaan
School ka Gyaan
Gyaani Bachhe
Simple Gyaan
Gyaan ka Mandir
Gyaani ki Classes
Nayi Shiksha
Digital Shiksha
Online Shiksha
Shiksha Mandir
Shiksha Ka Mandir
Gyaani Buddha
Latest Shiksha
Sabki Shiksha
Free ka Gyaan
Gyaan Vigyan
Shiksha Sheekh
Shiksha Vidhyalay
Vidya Mandir
Vidya ka Mandir
Latest Jaankari
Nayi Jaankari
Online Jaankari
Padhai ki Jaankari
Aapka Science
Aapka Physics
AapkaMaths
Aapki Chemistry
Apna Physics Classes
Apna Maths Classes
Apna Science Classes
Apna Chemistry Classes
Apni Physics Classes
Apni Science Classes
Apni Maths Classes
Apna Chemistry Classes
Aapki Physics Classes
Aapki Science Classes
Aapki Maths Classes
Aapki Chemistry Classes
Daily Physics Classes
Daily Science Classes
Daily Maths Classes
Daily Chemistry Classes
IIT Online Classes
IIT Digital Classes
IIT Daily Classes
IIT Advance Classes
IIT Success Point
IAS Online Classes
IAS Digital Classes
IAS Daily Classes
IAS Advance Classes
IAS Success Point
Online Gurukul
Digital Gurukul
Safal Shiksha
Safal Vidhyarthi
24/7 Padhai
24/7 Shiksha
Gyaan Matra
Online Classes Hindi
Digital Classes Hindi
IIT ki Padhai
IAS ki Padhai
India Padhega
Online Ace Classes
Online Seekh
Nayi Online Seekh
Naya Online Gyaan
Total CBSE Gyan
Poora CBSE Gyan
Latest CBSE Gyan
Sabki CBSE Classes
Daily CBSEClasses
CBSE Classes Hub
Poora NCERT Gyaan
Latest NCERT Gyan
Sabki NCERT Classes
Daily NCERT Classes
NCERT Classes Hub
Advance NCERT Classes
Advance CBSE Classes
Roz CBSE Classes
Roz NCERT Classses
Vidya Darshan
Gyaan ka Booster
Prakash ki Classes
Hamari Sanskriti
Sanskrit Gyaan
Pratham Digital Classes
Pratham Online Classes
e-NCERT Classes
e-CBSE Classes
Learning Mantra
Vigyan ka Gyaan
I hope from the list above you were able to find education channel name ideas in hindi for yourself. Also keep reading the blog for more educational channel name ideas.
100 Latest and Creative Educational YouTube Channel Names Ideas in English
If you want your channel to cater to students all over the world then choosing an English name would be perfect as it would give them a sense of belongingness.
So here are 100+ educational youtube channel name ideas in English. That you can also choose for your education channel name ideas in India.
So here is the list of 100+ latest and creative YouTube channel Name Ideas for Education in English.
Advance Studies
Logical Studies
Study Specialities
Future Studies
Arc Studies
New Age Studies
Study Seekers
2D Studies
3D Studies
StudyVerse
Study Drive
Study Wizard
Bang My Brain
BackYard Brains
Baffled Brains
Brain Challengers
Smart Brains
Train Your Brain
Boost My Brain
Brain Boosters
Mind Your Brain
Skill Learners
Advance Learners
Learntastic
Flagship Learners
Learn Nerd
School Learners
Focus Learners
Learnify
Beta Learner
Alpha Learner
Lazy Learners
Learners Club
Learners Quest
Academic Learner
Learn n Grow
Learn Nest
Thrive Learners
Learners Pursuit
Study n Grow
Learn Easy
Pathway Learners
Learners Light
Digital Learn
Online Learn
Learn it Online
Study Online
Digital Study
Grow n Learn
Learner's Hut
Quick Learners
Simple Learn
Learners Quest
Knowledgeify
Meta Knowledge
Swift Knowledge
Success Knowledge
Knowledge Pad
BlackBoard Knowledge
White Board Knowledge
Daily Knowledge
Nerdy Knowledge
Geek Knowledge
Cocoon Learners
Sunshine Classes
Sunshine Knowledge
Budding Sunshine
Budding Learners
Dash Knowledge
Knowledgery
Learning Bees
Learning Buds
Knoledgeable Bees
Knowlegeable Buds
Spark Classes
Learners Spark
Ignite Study
Spark Study
Spark Scholar
Scholars Spark
Intelligent Buds
Intelligent Bees
Learners Mode
Knowledge Zone
Learners Zone
Targeted Success
Academic Zone
Academic Classes
Smart Study
Smart Students
Study Guru
Study Buddha
Ultimate Learning
Ultimate Study
Studyologist
Pro Academic
Happy Teacher
Intelligent Guru
Smart Study Style
The Mind Sharpner
Carrer Makers
Career Makers
Shine Classes
We Make You Shine
I hope that you were able to find a great name for your Educational YouTube Channel from our list of 200+ YouTube Channel Name Ideas for Education.
All the names were the latest and unused at the time of writing this blog post.
Choosing a name for your channel was only the first step now you need to create an educational channel on YouTube.
Don't worry we will guide you through the exact steps of How to create an Educational Channel on YouTube.
How To Create An Education Channel On YouTube?
So, finally, let's get started with creating an educational YouTube channel where you can post your videos that can be viewed by students.
I know that it might be overwhelming for you to create a Youtube Channel if it's your first time.
So just follow the 8 simple steps that we listed below to easily create your channel.
Step 1: Create a Gmail Account beforehand if you don't have one because without it we won't be able to create our YouTube account without it.
Step 2: Go to YouTube.com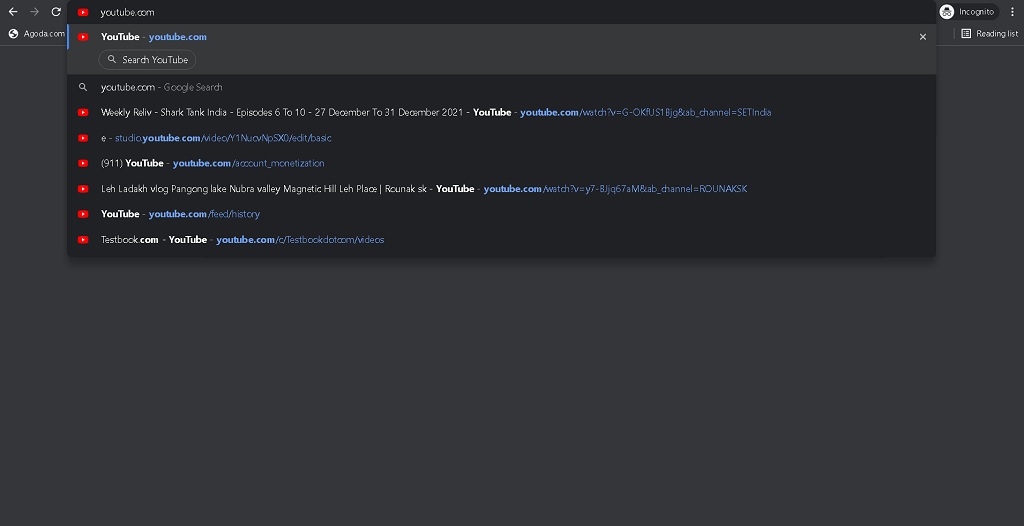 Step 3: Click the "Sign In" button in the top left-hand corner of your screen and sign in with the Gmail account you created.
Step 4: Once you successfully signed in, again look at the top left-hand corner you will see your Gmail account's profile picture Click it.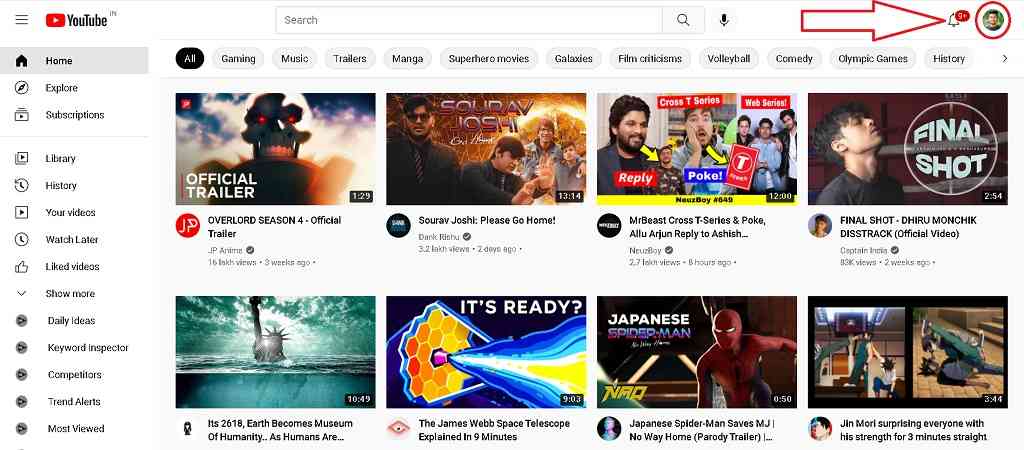 Step 5: Now you will see a drop-down menu with lots of options just click on the first option i.e, "Create a Channel"
Step 6: YouTube will redirect you to a new page where you can set the channel name that you picked. After writing down the name click "CREATE".
Step 7: Well you just officially created your Educational Channel on YouTube, you can now set your profile picture, add a cover photo, add social media links, and add a description.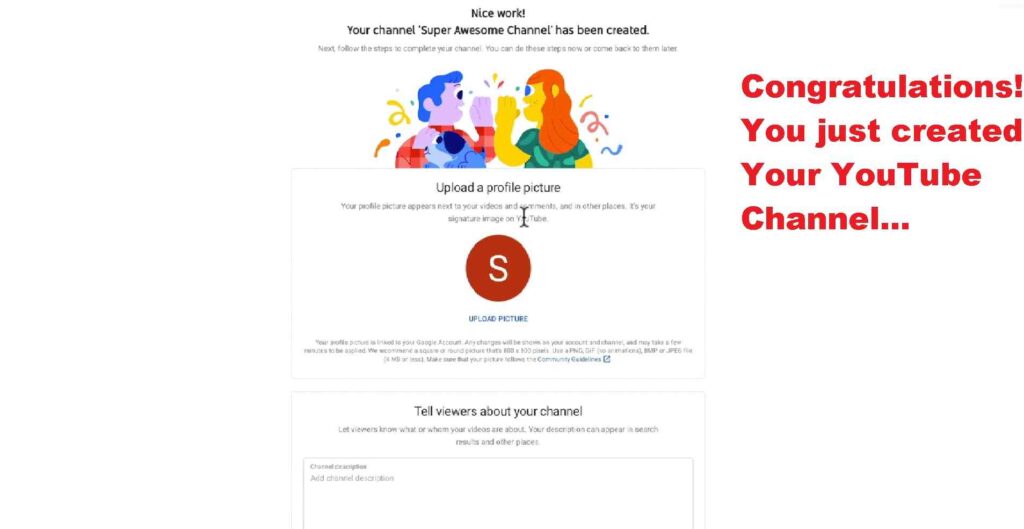 Step 8: So, finally you created your Educational channel now the most important step is to create a video for that channel so YouTube can suggest it to new viewers or students and make it go viral.
If you follow all these 8 steps to the point then you won't face any difficulty creating your Educational YouTube Channel.
How To monetize your Education Channel On YouTube?
There are a number of ways through which you can have your channel monetized and earn money even without getting accepted under the YouTube Partners Program.
I did some extensive research and being a small YouTuber myself found these 9 ways through which you can monetize your Education Channel On YouTube.
Adsense: You can start earning from Adsense once you are eligible for YouTube Partners Program. To be eligible your channel needs to have 1000 subscribers and your videos must have a total watch time of 4000 public watch hours.
Brand Sponsorships: Once you have gained enough subscribers like more than 5000 subscribers or even less than that you start getting brand sponsorships in your mail. It's a fact that big channels earn more from brand sponsorships than through Adsense.
Affiliate Marketing: You can earn money by selling affiliate products. Many YouTubers earn from promoting and selling Affiliate products. The Most Popular Affiliate Marketing platform among YouTubers is Amazon Associates. You can get anywhere around 2% to 9% commission if someone buys products through your affiliate links.
Donations: Viewers who like your content and know its value of it may sometimes donate a generous amount to support your work.
YouTube Sponsorships: YouTube itself provides the feature of a "Join Button" to a few channels. This join button lets your viewers sponsor your channel on monthly basis. Sponsorship can be reoccurring or manual based on the viewer's choice.
Super Chats & Super Thanks: If you frequently do live streams then viewers can do super chats or if not your viewers can do "Super Thanks" for some set amount of money. Both Super Chat & Super Thanks can be turned on once you are accepted into YouTube Partners Program.
By Selling Your Own Products: You can also start selling your own products on YouTube itself. You can start your own merchandise and sell it to your audience. Merchandise like printed t-shirts & shirts, printed cups and caps do well on YouTube.
By Selling your Courses: You can start earning money by selling your own courses to your respective viewers. But to do so you need to have an audience base that values your content.
Through Link Shorteners: Yes, you can earn through link shorteners. Many link shorteners these days pay you for using their services. You get paid whenever someone clicks on the link you shortened from their site.
My Final Thoughts on YouTube Channel Name Ideas
So, you have reached the end of our blog post titled "200 YouTube Channel Name Ideas for Education In India".
As you know that in this post we gave you the list of 100 Youtube Channel Name Ideas for Education in Hindi and in English too.
Now I hope that you won't have any difficulty choosing a perfect name for your educational YouTube channel.
Keep in mind that all the names that we selected for our list are some of the best and latest names that you can choose for your Educational YouTube channel.
If you liked this post or have any input that you want to share with us then use the comment section to do so.
We would love to hear what you have to say!
FAQ: Education YouTube Channel
Is signing up on YouTube free?
Yes, it's completely free. There are no hidden or extra fees what so ever you can simply just sign up and get started with creating content.
How to earn money from Youtube?
There are not one but a lot of ways through which you can earn money on YouTube.
We tried to list a few ways through which you can earn money from YouTube:
1. Adsense
2. Brand Sponsorships
3. Donations
4. Crowdfunding
5. By Selling Affiliate Products
6. By selling your own courses
7. By selling your own Merchandise
Yes, that's a lot of ways through which you can earn money but to do so you need to have an audience who watches most of your videos.
What are the 10 best latest and Creative YouTube Channel Name Ideas for Education In India?
Here is the list of 10 best latest and Creative YouTube Channel Name Ideas for Education In India:
1. Gyaan in Hindi
2. Latest Gyaan
3. Apna Gyaan
4. Gyaani Teacher
5. Arc Studies
6. New Age Studies
7. Study Seekers
8. 2D Studies
9. 3D Studies
10.StudyVerse
How to take live classes on YouTube?
You can take live classes by starting a live stream through your YouTube Dashboard on PC or by clicking on the plus icon in the mobile app. After you click the plus icon you will see an option to "Go Live" Click that and you will be live on YouTube for your viewers to watch.
When will I be eligible for YouTube Partners Program?
There are some of the conditions that need to be fulfilled before you are eligible for the YouTube Partners Program i.e,
1. You need to have a total of 1000 subscribers on your channel
2. And gain 4000 public watch hours in the previous 12 months
3. Your channel should not have any active Community Guidelines strikes or Copyright claims.
What is the max duration of videos on YouTube?
You can upload videos of duration up to 15 minutes, but to upload a video longer than 15 minutes you need to verify your YouTube account. Verifying your YouTube account is very easy and you just need to confirm your identity.
Can I create custom playlists on YouTube?
Yes, YouTube gives you the option to create an unlimited number of playlists, and in that playlist, you can add any number of videos.
Can my viewers sponsor my YouTube channel?
Yes, if your viewers want to sponsor your YouTube channel then they can do so by either Joining your channel by buying any of the sponsorships that you created. Please keep in mind that only a few channels get the feature of "Join Button" after their channels are accepted in YouTube Partners Program.
How much does YouTube pay for 1000 views?
Well, first of all, YouTube doesn't pay you for views. It pays you for the number of times any viewer watched the ad that you placed in your videos. If you are accepted under YPP then ads are automatically placed in all of your videos.
What benefits will I get after crossing 1000 Subscribers?
Yes, I know that the 1000 subscribers mark may seem a bit small buy growing a channel for 0 to 1000 subscribers is hard. So if you have reached that 1000 subscribers mark then congratulations.
So here are some of the things that you get from YouTube as your reward for reaching 1000 subscribers:
1. A congratulatory email
2. If you have also completed the 4000 public watch hours goal then you can apply for Youtube Partners Program.
3. You get access to the community tab
4. Your subscriber's count will be displayed as 1K subscribers and not plain and old 1000 subscribers